DON'T JUST STAND THERE!

This January, FrillyShirt Readers can expect Novelties and Rascally Bargains! We are a paper imdued with "Grit", "My Golly" and "Oh Dear Lord", and as such feel little shame in announcing a NEW ERA in publishing! Observe some of what this will have to offer YOU, the READER, thanks to our sponsors!
IS YOUR CIGARILLO OF CHOICE LACKADAISICAL?
If you are indeed a British Man, you will immediately choose to smoke WILLOUGHSBY'S, the STIFFEST Cigarillo on the Market!


"B***** me sideways if WILLOUGHSBY'S isn't the most rigid Smoke in the World!" – This Important Gent

For subscribers to Sir Frederick Chook's FrillyShirt, every tenth Carton of WILLOUGHSBY'S yields another at NO ADDED CHARGE!
TAUNTED BY A MOUSTACHIOED COLONEL?
Were the Papist Brigands you hired to DO HIM IN WITH CUDGELS apprehended by the Constabulary?



You need "THE MONSOONER" Smooth-Firing Shot Gun, to catch him as he leaves his Officer's Club reeking of Gin and Impudence! He'll not speak down to you again so quickly, by half! Advertised exclusively for readers of FrillyShirt!
AND REMEMBER!
On all occasions, purchase Sir Frederick Chook's Patented LEOPARD OIL! It's even cheaper than hiring a Young Man (Pictured)!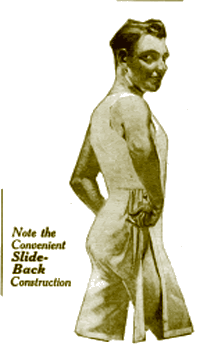 The Opinions expressed by Advertisers in this Publication reflect the Views of Very Wealthy and Important Men, and so you clearly should not disagree with them, or else you must be an Idiot, or worse, a Suffragist.